Our general location is between the
City of Orange (C-7) and Lake Forest/El Toro (C-8).


For Take-Along Version of the maps, Click Here.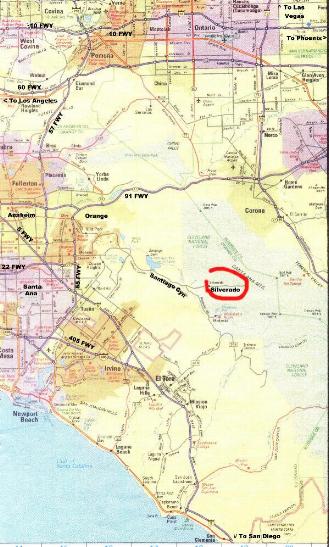 We are in open country, 6 miles from town.
GPS: 14362 SUNSTAG RUN, SILVERADO CA 92676.


+++


The Kennel & Homestead Environment
From West (L.A. Area). South on I-5/San Diego Fwy, to East on 22 (Garden Grove Fwy) to North on 55 (Costa Mesa Fwy) to first exit, Chapman East . . .
From North (Pasadena Area). South on 57 (Orange Fwy) to East on 22 (Garden Grove Fwy) to North on 55 (Costa Mesa Fwy) to first exit, Chapman East. . ..
From East (Riverside Area). West on 91 (Riverside Fwy) to South on 55 (Costa Mesa Fwy) to Chapman East offramp. (3rd exit). . ..
From any of the above (West, North, East), continue East on Chapman aproximately 12 miles. Road will change from shopping type to winding Country Road. Turn Left on Silverado Canyon Road . . .
See below for directions within Silverado.
From South (San Diego Area). North on I-5 (San Diego Fwy) to El Toro Exit Right/East to Santiago Canyon Rd (6 miles, bear Left at Cooks Corners) to Right on Silverado Canyon Rd. (3 miles) . . .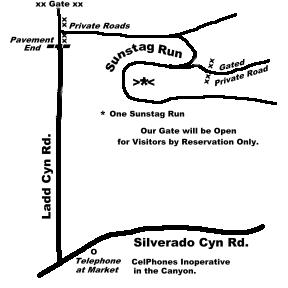 . . . FOLLOW
Silverado Canyon Rd. about 2 miles to Ladd Canyon Rd., turn Left. The pavement on Ladd ends (about 1/4 mile), proceed OFF the end of the pavement, straight ahead about 3 car lengths, turn Right. The Gate will be open. As you go through the gate, on your left will be a grey cottage with white trim, continue past this cottage and its out buildings (looks like their driveway but isn't), to the top of the next rise which leads you to the concrete "tracks"--you will cross the creek on the "AntMac Bridge" and be on wagon "tracks". There is a new retaining wall as you come up the hill. On the wall is SUNSTAG with an arrow pointing Right (and an unearthly dinosaur!). BE ALERT! Hounds and Horses may be out! Just drive slowly and please, turn a tight Right at the wall. Look up to your left... we are the 3-storied white house on your Left. Come to the top of that hill and park under the Eucalyptus trees, behind my brown van, across from the house's driveway. Please leave room for our neighbors to pass. Thank you. See you soon!